Best Golf Rain Gear Guide 2023: Expert Tips and Top Picks
September 4, 2023 • 7:22 am

Rainy days on the golf course can be a golfer's worst nightmare. However, with the right gear, you can stay comfortable and dry while still enjoying your game. At Golf Ball Monkey, we're not just about golf balls; we're here to help you stay prepared for all conditions on the course. That's why we've put together this comprehensive guide to the best golf rain gear to help you make the most out of your wet days on the fairway. Whether you're a seasoned pro or a weekend warrior, these rain gear essentials will keep you covered.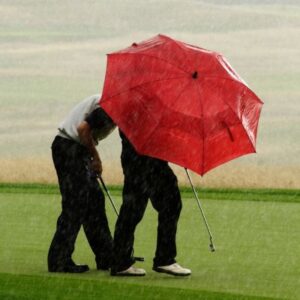 Tips on Shopping for Golf Rain Gears
Waterproof Ratings: Look for rain gear with high waterproof ratings. A rating of 10,000mm or more is considered excellent for golf rain gear. The higher the rating, the better it will keep you dry in heavy rain.

Breathability: Opt for rain gear that offers breathability to prevent overheating and moisture buildup inside your clothing. Look for materials with moisture-wicking properties to keep you comfortable throughout your round.

Fit and Mobility: Ensure that your rain gear fits comfortably and allows for a full range of motion. Golf-specific designs often have features like articulated elbows and knees to prevent restriction during your swing.

Layering: Consider the layering options. Some golf rain gear is designed to be worn over your regular golf attire, allowing you to adapt to changing weather conditions easily.

Packability: If you frequently golf in unpredictable weather, choose rain gear that is easy to pack and carry in your golf bag. Compact rain jackets and pants are a great choice for on-the-go golfers.

Brand Reputation: Stick to reputable golf brands known for their quality and durability. Reading reviews and seeking recommendations from fellow golfers can be helpful in choosing the right gear.

Maintenance: Check care instructions for your rain gear. Some items may require special washing or reapplication of waterproof coatings to maintain their effectiveness.
Here are the List of the Best Golf Rain Gear in 2023 for your
Ultimate Performance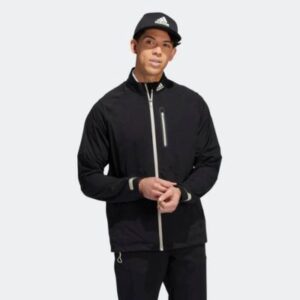 The Adidas Rain.Rdy Full-Zip Jacket stands out as the best golf rain jacket for those looking to stay dry and comfortable in unpredictable weather conditions. Crafted from 100% recycled polyester interlock, this waterproof marvel not only champions sustainability but also delivers top-tier protection against the elements. With a fully waterproof and breathable 10k/10k rating, it ensures you'll remain dry even during heavy rain while maintaining breathability for comfort. The ultralight, three-layer knit fabric provides remarkable stretch without any distractions, allowing you to move freely on the golf course. Its regular fit, adjustable cuffs, and drawcord on the hem offer personalized comfort, and the inclusion of zip pockets for tees, phones, or balls adds to its practicality.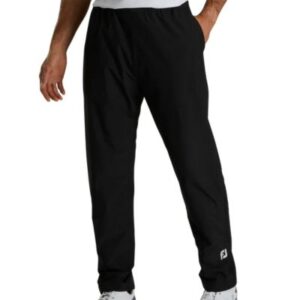 Golfers seeking the best in waterproof golf pants will undoubtedly love the FootJoy HydroLite Rain Pants. These top-tier rainproof golf trousers not only deliver 100% waterproof protection but also boast breathability, making them ideal for cool, windy, and rainy conditions on the golf course. With a comfortable gripper stretch waistband ensuring a non-slip fit, you'll maintain your focus on your swing, not adjusting your pants. The added convenience of an extra long 5″ Velcro pant bottom allows for easy length and fit alterations, catering to individual preferences. Seam sealed for complete waterproofing and backed by a two-year U.S. warranty for peace of mind, these lightweight, windproof, and quiet Sta-Dry pants from FootJoy are the epitome of the best golf rain pants, offering golfers the ultimate blend of comfort and protection.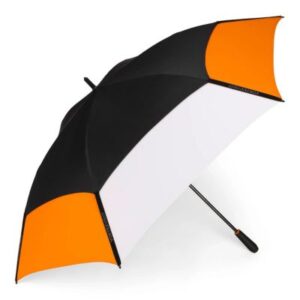 The Shedrain Vortex Vent XL golf umbrella is a remarkable choice for those seeking the best golf umbrella for rain, with its cutting-edge technology and robust design. Featuring a vented canopy, energy-absorbing shocks, and anti-inversion struts capable of withstanding wind speeds of up to 75mph, this umbrella ensures unwavering protection even in challenging weather conditions on the golf course. Its patented frame technology sets it apart as the top-performing product in its class. With an expansive 68″ canopy, large enough for three, the Vortex XL Golf guarantees you'll stay dry and covered, making it an ideal choice for anyone in need of a wind-resistant golf umbrella that offers both reliability and comfort.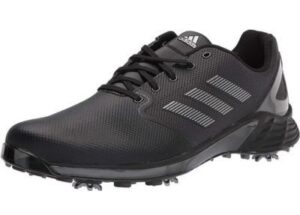 The Adidas ZG21 Golf Shoe stands out as the best choice for those seeking waterproof golf shoes that excel in all aspects, from comfort to performance. These shoes combine lightweight design with Boost technology in the heel and a Lightstrike frame, ensuring maximum comfort and agility throughout your round, even in wet conditions. The TPU Stability Fin further enhances your stability and power during swings, making these shoes the ideal rain-resistant golf footwear. With four different color options, the ZG21 Golf Shoe offers both style and substance, making it the ultimate choice for those who demand uncompromised quality in their golf gear.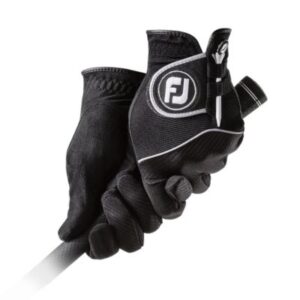 The FootJoy RainGrip Pair stands out as the best choice for all-weather golf gloves, offering a combination of lightweight comfort and quick-drying performance that golfers will truly appreciate. With Nanolock materials covering the entire palm and back, these gloves provide maximum breathability and quick-drying advantage, ensuring comfort in wet or humid conditions. The QuikDry™ II knit material on the fingers adds to the flexibility and breathability, making them versatile for various weather conditions. These gloves also feature a removable ball marker for added convenience. However, what truly sets them apart is the Auto Suede knit palm, which delivers an exceptional grip even in wet weather, providing golfers with the secure hold and control they need. Whether it's raining or hot and humid, the FootJoy RainGrip Pair ensures that golfers have the best possible grip on their game.
Conclusion:
Don't let unpredictable weather conditions put a damper on your golfing experience. With the right golf rain gear, you can stay dry, comfortable, and focused on your game. At Golf Ball Monkey, we understand the importance of being prepared, whether it's choosing the perfect golf ball or selecting the best rain gear to tackle the elements. Explore these top-notch options from trusted brands and elevate your golfing experience, rain or shine. And when it comes to finding the finest used golf balls, look no further than Golf Ball Monkey. You can see our premium selection on our website and our Amazon store. Remember, a little rain should never stand between you and your favorite pastime on the fairway!